Multimodal Sensing Co-Creation Consortium 10th RA Seminar was held!
News 30/Nov/2023
* 108 people participated in the 10th RA Seminar. Thank you everyone.

The OPERA of Toyohashi University of Technology, as a human resources development program, doctoral students participate as RAs, and we are working with companies to develop human resources who will be responsible for innovation through innovative technology.
https://opera.tut.ac.jp/education/

 Mr. Naoki Sakaguchi, 3rd year doctoral course, Department of Mechanical Engineering, Graduate School of Engineering, Toyohashi University of Technology will present "Analysis of aroma compounds of sweet basil grown under different light intensities".
Time and Date: 12:30-13:00 Thursday, November 30, 2023
Via Zoom. Free of charge, anyone can attend.
We look forward to your application!
This seminar has been closed(Thank you for the many applications!)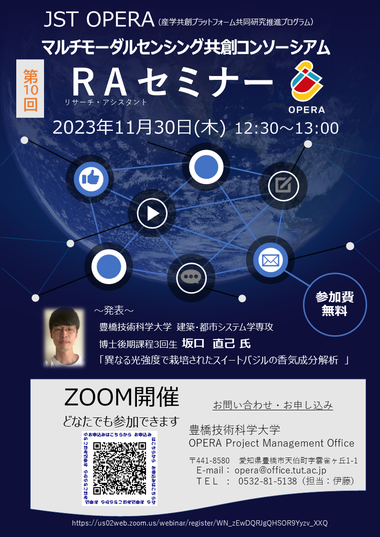 >
TOPICS List