The 6th TUT-OPERA Webinar was held! (JST OPERA Project)
News 14/Nov/2023
* 242 people participated in the 6th TUT-OPERA Webinar. Thank you everyone.
The Toyohashi University of Technology OPERA will hold a webinar as an opportunity to introduce research on multimodal sensors, to publicise the activities of the OPERA project and multimodal sensors, to develop new applications, to participate in joint research and consortia, to create new businesses and to consider new product development. The webinars are held as opportunities for joint research, consortium participation, new business creation and new product development. The principal investigators will talk about the progress of the research and development of their research and development projects.
*Everyone is welcome to attend. If you are interested, please apply!
Time and Date: 15:00-17:00 Monday, 13 October 2023,

Via Zoom. Free of charge, anyone can attend.

Programme.
15:00-15:05 Introduction of JST OPERA
15:05-15:10 Multi-modal Sensing Co-creation Consortium Overview
・Kazuaki Sawada, OPERA Project Coordinator, Toyohashi University of Technology
15:10-16:20 <Progress report on research and development>
・15:10-15:30" basic technology for multimodal sensing"
Kazuaki Sawada, Professor, Professor, Faculty of Engineering, Department of Electrical and Electronic Information Engineering, Toyohashi University of Technology
・15:30-15:40 "Development of Multimodal Sensing Technology for Environmental Studies"
Toshihiko Noda, Associate Professor, Institute for Research on Next-generation Semiconductor and Sensing Science (IRES²), Toyohashi University of Technology
・15:40-15:50 "Multimodal Sensing Technology Applied for Agriculture"
Kotaro Takayama, Professor, Graduate School of Engineering Department of Mechanical Engineering, Toyohashi University of Technology
・・15:50-16:00 "Development of Multimodal Sensing Technology in Medical Drug Discovery"
Schuichi Koizumi, Professor, Department of Neuropharmacology, Faculty of Medicine, University of Yamanashi
・16:00-16:10 "Health Monitoring with Multimodal Sensing Technology"
Toshiya Sakata, Associate Professor, Department of Materials Engineering Graduate School of Engineering, The University of Tokyo
・16:10-16:20 "Application of Multimodal Sensing Technology to Human-Machine Harmony"
Michiteru Kitazaki, Toyohashi University of Technology Professor, Department of Computer Science and Engineering Graduate School of Engineering
16:20-16:55 Q&A session and panel discussion
Facilitator Kazuaki Sawada, OPERA Project Coordinator Toyohashi University of Technology
This seminar has been closed(Thank you for the many applications!)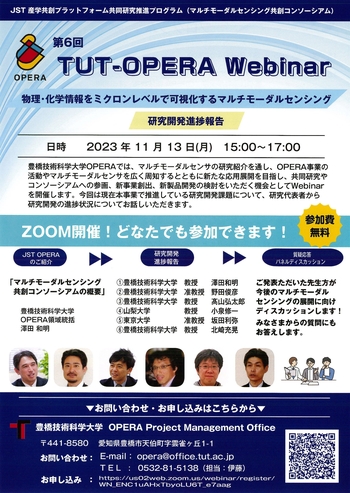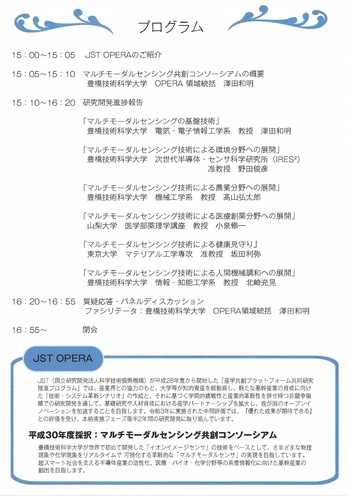 TOPICS List